Small Wind Overview
US Small Wind Market Grows 78% in 2008
The US market for small wind turbines – those with capacities of 100 kW and under – grew 78% in 2008 with an additional 17.3 MW of installed capacity. This growth is largely attributable to increased private equity investment that allowed manufacturing volumes to increase, particularly for the commercial segment of the market (21-100kW). The still-largest segment of the market, residential (1-10kW), was likewise driven by investment and manufacturing economies of scale, but also by rising residential electricity prices and a heightened public awareness of the technology and its attributes.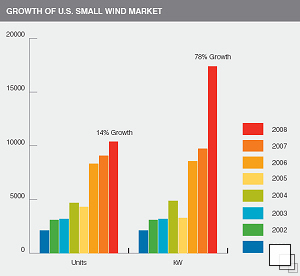 The industry projects 30-fold growth within as little as five years, despite a global recession, for a cumulative US installed capacity of 1,700 MW by the end of 2013. Much of this estimated growth will be spurred by the new eight-year 30% federal Investment Tax Credit passed by Congress in October 2008 and augmented in February 2009.
The market has become dominated by grid-connected units and will likely continue in this trend as these larger systems become more affordable.
The US continues to command roughly half the global market share and is home to one-third of the 219 identified worldwide manufacturers. Small wind is still in a race with the solar photovoltaic industry toward "grid parity" – price per kilowatthour on par with conventional forms of electricity – and now both industries enjoy nearly identical federal incentives for a more level playing field.
Growth Projections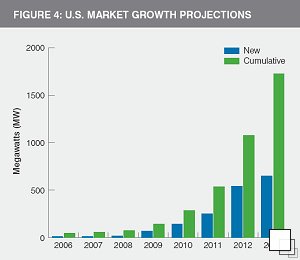 Manufacturers predict a 30-fold increase in the US market in as little as five years, even under current economic conditions. Primary drivers include the eight-year 30% federal investment tax credit enacted in October 2008, recent and potential private equity investment, and greater equipment manufacturing capabilities. This growth projection is much greater than the 40-50% annual growth predicted in the 2008 study, and is far beyond the average annual growth of 14-25% year-over-year growth the industry has seen over the past decade.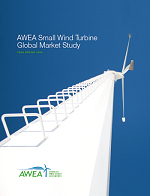 AWEA Small Wind Turbine Market Study
The 24-page AWEA Small Wind Turbine Global Market Study for year ending 2008 is full of informative information and can be downloaded by clicking on the image to the right or from the AWEA website.
AWEA is the national trade association of America's wind industry, with more than 1,900 member companies, including global leaders in wind power and energy development, wind turbine manufacturing, component and service suppliers, and the world's largest wind power trade show. AWEA is the voice of wind energy in the U.S., promoting renewable energy to power a cleaner, stronger America